Get an extra 20% Discount with the 3 Amigos Special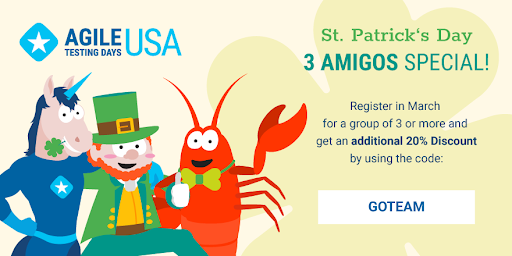 Teamwork makes the dream work. So they say, and we help you to grow and learn together with your team.
Register this March for a group of three or more and benefit from our very special St. Patrick's 3 Amigos discount, where you get an additional 20% off on your registration for Agile Testing Days USA this June in Boston, MA!
Join the learning, the fun, the networking with your fellow testers, managers, quality assurers, and software developers. Explore Agile Testing Days USA together with your team and bring back more learnings, knowledge, ideas and applicable know-how to your company to become more efficient and better.
Get the most out of the conference and book your tickets now by using the code GOTEAM when you register: https://agiletestingdays.us/register/.
Nominate an "Agile Unicorn" + Win A Free Ticket to Boston!
Calling All Agile Unicorns!

An "Agile Unicorn" is someone who is taking the art of agile testing to magical levels. Who do you know that is an agile unicorn? Let us know and you could win!

Be sure to follow us on Twitter and mention @AgileTDUSA on the nomination for a chance to win a free 2-day conference registration plus a $500 Visa gift card for travel expenses to Agile Testing Days USA in Boston. Bonus points for pics or video!

Deadline for nominations is February 28—so head on over to Twitter, channel your inner sparkle, and nominate your favorite agile unicorn!
Learn from these awesome Keynote and Tutorial speakers!
At ATD USA 2018 you will be able to learn from and discuss with industry leading speakers.
Keynotes for example will be given by Paul Holland & Noah Sussman, Selena Delesie, Ray Arell, Ellen Gottesdiener, Angie Jones, and by our well-known European imports Huib Schoots & Alexandra Schladebeck.
They all look forward to sharing their experiences and perspectives with you.
If you would like to delve deeper into a certain topic you are well-advised to check out our eight full-day tutorials, taking place on Monday, June 25, 2018: SEE ALL
During these full-day workshops, you will learn hands-on and are able to discuss individual questions and challenges.
Tutorials will be given by Lisa Crispin & Janet Gregory, Woody Zuill, Ray Arell, Ellen Gottesdiener, Paul Holland, Huib Schoots & Alexandra Schladebeck, Matt Heusser and Selena Delesie.
Make sure to catch the SUPER EARLY LOBSTER!
Save big time by booking your ticket early! With our Super Early Lobster you can save up to $400!
If you want to make sure you save yourself or your company some serious cash, then register until April 27, 2018.
Don't forget to tell your colleagues and friends about this super awesome deal.
Register now by clicking here!
#AgileTD and TechWell hosting new US conference together
Discover Agile Testing Days USA! The very popular and interactive European event is now coming to North America and you won't want to miss out on meeting face-to-face with some highly engaged new agile testers, developers, ScrumMasters, high-level agile enthusiasts, and other key audiences.
TechWell Corporation, an industry leader in software conferences and training (e.g., Star conferences, Better Software conferences), and trendig technology services GmbH, the organizer of Europe's popular Agile Testing Days, are announcing a strategic partnership to bring Agile Testing Days to the United States, which will be held June 25-27, 2018 at the DoubleTree by Hilton in the Boston, Massachusetts area.
The Agile Testing Days conferences are festivals of learning and sharing for the agile community. They provide a fun way to get deep insights and latest developments in testing and agile excellence as well as to provide a platform for networking.
The program consists of one day of tutorial workshops and two days of conference sessions.
Anyone interested in further training should plan for two more days, as TechWell offers different 2 days trainings subsequent to the conference.
TechWell will partner with Agile Testing Days to ensure the conference continues the legacy of offering the best agile testing education with the first U.S. based event.