SpeakEasy teams up with AgileTDUSA
We're delighted to announce that Agile Testing Days USA is teaming up with SpeakEasy for a great partnership for the 2019 North America conference. A full track will be facilitated by SpeakEasy consisting of
1 keynote
6 30-minute talks
2 150-minute workshops
Over the years SpeakEasy has been to the Agile Testing Days in Germany and been so well received. SpeakEasy calls for two groups of people: new voices who want to pitch a keynote, and for track speakers.

SpeakEasy is happy to support you in the journey to become a speaker. Don't miss your chance! AgileTDUSA and SpeakEasy are sure that you have a story to tell that everyone should hear.

To learn more about how and where to apply for the SpeakEasy tracks, please visit the SpeakEasy homepage.
Call for Papers for AgileTDUSA 2019 OPEN!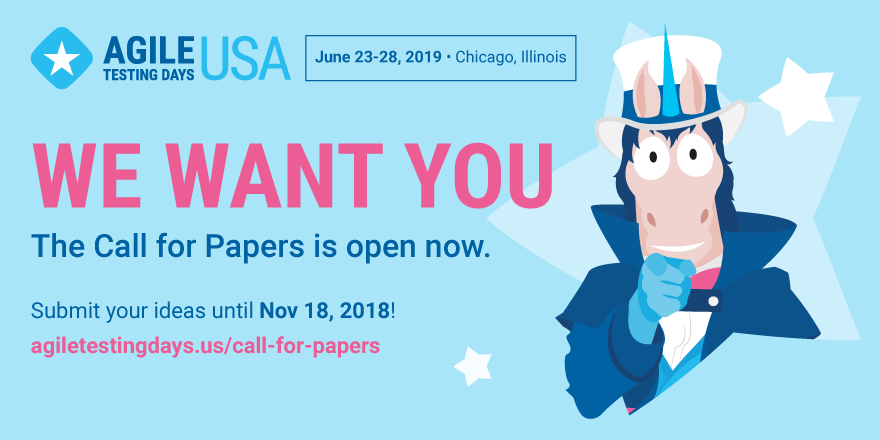 The whole AgileTDUSA team is happy and delighted to announce that we have opened our Call for Papers for the Agile Testing Days USA in 2019! We're looking forward to your numerous submissions no matter if you're a newbie or a seasoned pro!
At the first edition of AgileTDUSA in Boston, MA, we had so many insightful talks, great hands-on workshops and amazing keynotes about Test Automation, Integration, Mob Programming, Scrum Excellence, Continuous Delivery, Agile Management, DevOps, User Story Integration, Personal Improvement, Innovation Leadership, and many more. For 2019, we are also looking for papers revolving around Exploratory Testing and Inclusive Coding.
Because we know how hard it is to write a proposal for a Call for Papers (or Call for Speakers), we have collected some helpful tipps and hacks in our blog post "It always starts with an idea".
An awesome way to start the tenure of our four program chairs - Janet Gregory, Ash Coleman, Pete Walen and Matt Heusser - is to overwhelm them with the sheer volume of solid and amazing proposals. So, take your chance and become a speaker at AgileTDUSA 2019!
The Call for Papers closes November 18, 2018 11:59 p.m.
Submit your best ideas here: https://agiletestingdays.us/call-for-papers/!
Thank you for an Amazing 1st Edition of AgileTDUSA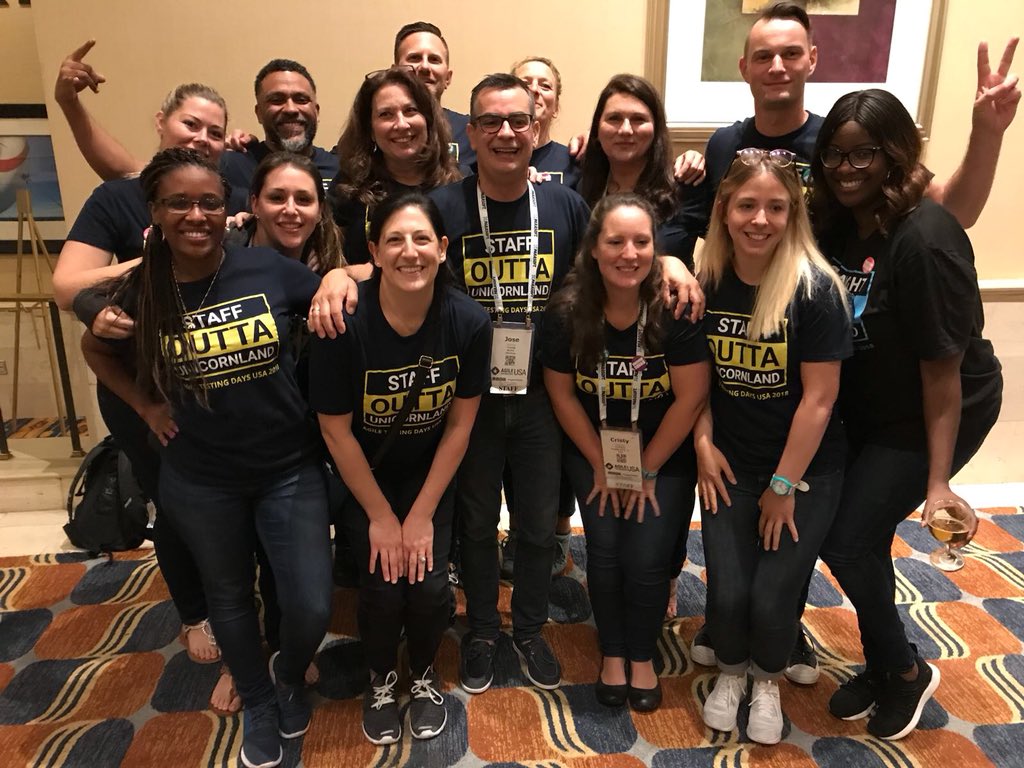 Team #AgileTDUSA says THANK YOU to all speakers, sponsors and attendees We had such a great time mingling, playing, networking, talking, learning, laughing, and sharing with you. We loved running this conference and we hope it gave you many ideas, learnings and valuable knowledge to take back to work and to share with your team.
Although it might have been a tiring week, we are sure that you found not only an incredibly warm and giving community of support & learning but that you also truly found your inner unicorn.
Although AgileTDUSA is over, you can stay in touch with us and your new friends on social media.
It was a pleasure hosting you, so please #SaveTheDate! We hope to see you in Chicago, June 23-28, 2019 for #AgileTDUSA.
Take care until we meet again.
Your AgileTDUSA Team
Winner of the 'Color Your Unicorn' Contest Announced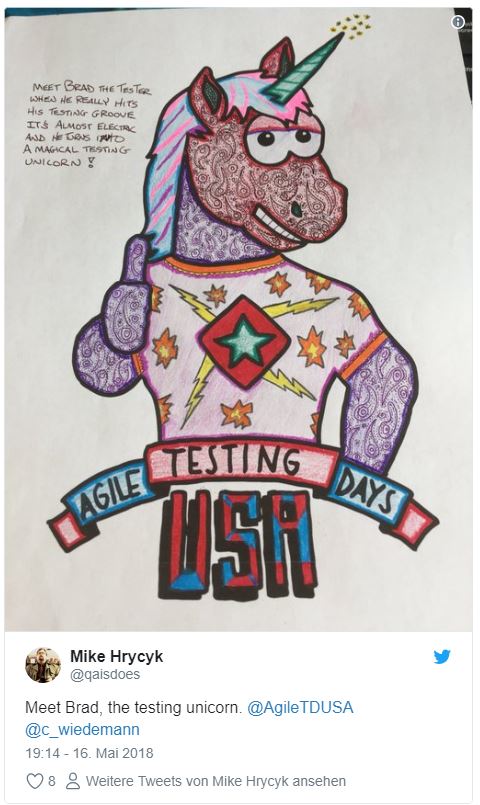 First of all, thank you to all your beautiful and creative entries to our 'Color Your Unicorn' Contest. Thank you so much to everyone who put in so much love into each of their creations. Needless to say, it was difficult for us to narrow down our favorite pick since there were so many amazing unicorns.
But we are thrilled to announce that out of all the entries, the following submission made it to our Top 1 Agile Unicorn:
Congratulations to Mike Hrycyk for winning our 'Color Your Unicorn' Contest! He wins the $100 Amazon Gift Card.
We love Brad, the testing unicorn. We think, Brad is a great addition to the agile testing universe and we hope, that he will share his electrical testing skills with his other fellow agile unicorns.
Finally, a big round of applause to all of the other participants. You were also amazing. This gives us even more drive to organize more in the future. We hope to see you for the next one!
Early Lobster Saving Ends This Week!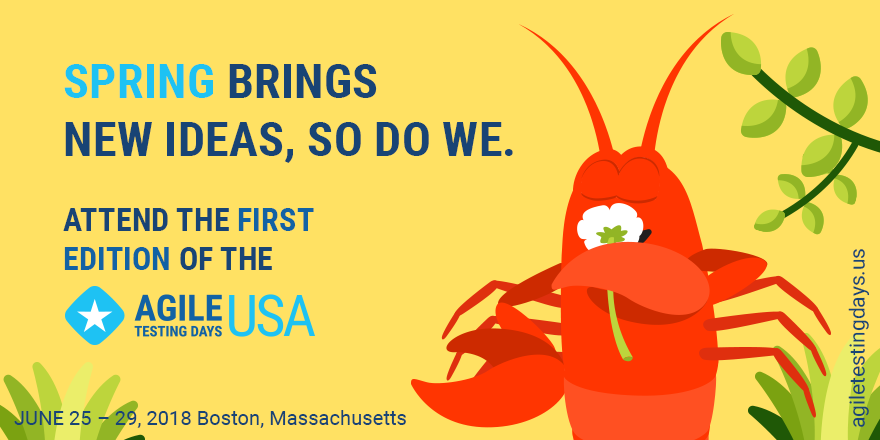 Final Days for Early Lobster Saving!
Only a few days left to get the best deal on AgileTDUSA. Save up to $200 off on each registration with the Early Lobster Saving!

"Grab the crab" until Saturday, May 26, 2018 and join us for this fantastic community event in Boston!
Bring a Friend & Save an Extra 15%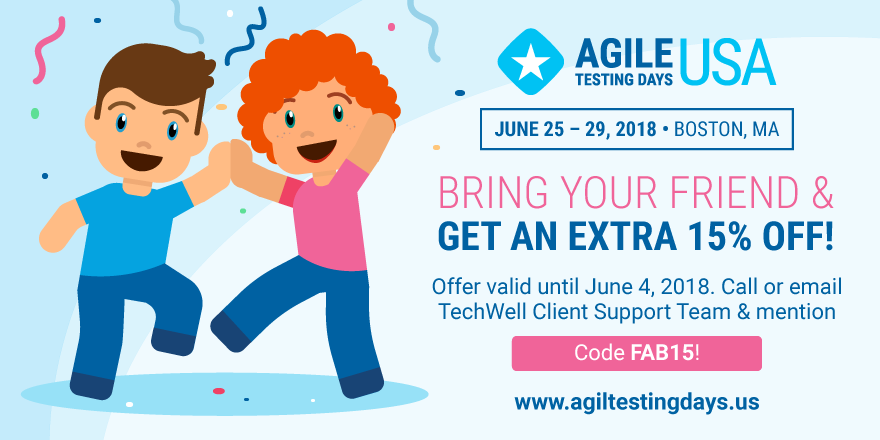 It simply makes more fun together exploring the Agile Testing Days USA this Summer in Boston, MA!
Improve your skills with our intense full-day tutorials, dive into the agile world with our expert speakers, engage in practical examples and enhance your ideas, and network, have fun & discover the unique ATD spirit.

Register for the conference with a friend and you both can save an additional 15% off Early Lobster pricing when you contact clientsupport@techwell.com with promo code "FAB15".
This offer is valid until June 4, 2018.
Join us for this fantastic community event! We hope to see you there!
Color Your AgileTDUSA Unicorn
We recommend to stop doing what you are doing right now. It's time to spark your imagination and express yourself! Agile, testing and creativity can go hand in hand with our 'Color Your Unicorn' Contest.

If you now think that coloring is just something for kids, you are so wrong. Coloring can help you to learn the skill of patience. It allows you to be relaxed and comfortable while creating a piece of art. Furthermore, coloring gives you an opportunity to express your creative side.

So, channel your inner Picasso, van Gogh or Frida Kahlo, download our blank Agile Unicorn template, get a box of crayons and set your creativity free.

Upload your picture of your colored Agile Unicorn on Twitter, tag @AgileTDUSA and you could win a $100 Amazon gift card, which you could perfectly use to buy more coloring books.

The 'Color Your AgileTDUSA Unicorn' Contest ends Thursday, May 31st, 2018.

Have fun! We look forward to your submissions.
Get an extra 20% Discount with the 3 Amigos Special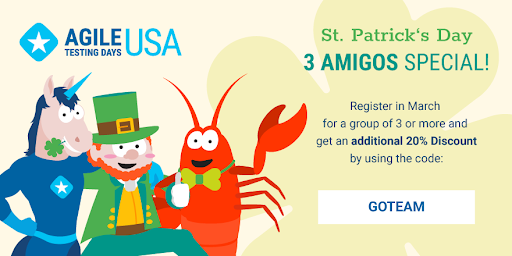 Teamwork makes the dream work. So they say, and we help you to grow and learn together with your team.
Register this March for a group of three or more and benefit from our very special St. Patrick's 3 Amigos discount, where you get an additional 20% off on your registration for Agile Testing Days USA this June in Boston, MA!
Join the learning, the fun, the networking with your fellow testers, managers, quality assurers, and software developers. Explore Agile Testing Days USA together with your team and bring back more learnings, knowledge, ideas and applicable know-how to your company to become more efficient and better.
Get the most out of the conference and book your tickets now by using the code GOTEAM when you register: https://agiletestingdays.us/register/.
Nominate an "Agile Unicorn" + Win A Free Ticket to Boston!
Calling All Agile Unicorns!

An "Agile Unicorn" is someone who is taking the art of agile testing to magical levels. Who do you know that is an agile unicorn? Let us know and you could win!

Be sure to follow us on Twitter and mention @AgileTDUSA on the nomination for a chance to win a free 2-day conference registration plus a $500 Visa gift card for travel expenses to Agile Testing Days USA in Boston. Bonus points for pics or video!

Deadline for nominations is February 28—so head on over to Twitter, channel your inner sparkle, and nominate your favorite agile unicorn!
Learn from these awesome Keynote and Tutorial speakers!
At ATD USA 2018 you will be able to learn from and discuss with industry leading speakers.
Keynotes for example will be given by Paul Holland & Noah Sussman, Selena Delesie, Ray Arell, Ellen Gottesdiener, Angie Jones, and by our well-known European imports Huib Schoots & Alexandra Schladebeck.
They all look forward to sharing their experiences and perspectives with you.
If you would like to delve deeper into a certain topic you are well-advised to check out our eight full-day tutorials, taking place on Monday, June 25, 2018: SEE ALL
During these full-day workshops, you will learn hands-on and are able to discuss individual questions and challenges.
Tutorials will be given by Lisa Crispin & Janet Gregory, Woody Zuill, Ray Arell, Ellen Gottesdiener, Paul Holland, Huib Schoots & Alexandra Schladebeck, Matt Heusser and Selena Delesie.
Make sure to catch the SUPER EARLY LOBSTER!
Save big time by booking your ticket early! With our Super Early Lobster you can save up to $400!
If you want to make sure you save yourself or your company some serious cash, then register until April 27, 2018.
Don't forget to tell your colleagues and friends about this super awesome deal.
Register now by clicking here!
#AgileTD and TechWell hosting new US conference together
Discover Agile Testing Days USA! The very popular and interactive European event is now coming to North America and you won't want to miss out on meeting face-to-face with some highly engaged new agile testers, developers, ScrumMasters, high-level agile enthusiasts, and other key audiences.
TechWell Corporation, an industry leader in software conferences and training (e.g., Star conferences, Better Software conferences), and trendig technology services GmbH, the organizer of Europe's popular Agile Testing Days, are announcing a strategic partnership to bring Agile Testing Days to the United States, which will be held June 25-27, 2018 at the DoubleTree by Hilton in the Boston, Massachusetts area.
The Agile Testing Days conferences are festivals of learning and sharing for the agile community. They provide a fun way to get deep insights and latest developments in testing and agile excellence as well as to provide a platform for networking.
The program consists of one day of tutorial workshops and two days of conference sessions.
Anyone interested in further training should plan for two more days, as TechWell offers different 2 days trainings subsequent to the conference.
TechWell will partner with Agile Testing Days to ensure the conference continues the legacy of offering the best agile testing education with the first U.S. based event.